FCGS (Fairfield County Genealogy Society)
Located in Fairfield County Museum (video)
Winnsboro, Fairfield County, South Carolina
---
Upcoming Events
Announcements/Conferences, Reunions
---

Due to Printer Ink Shortages
Mailing of FCGS 1st & 2nd Quarter Newsletters Has Been Delayed
Plan is to Mail Both Newsletters Together Once Ink is Available
Newsletters Are Still Available By Email or Online
---
The planned FCGS Board Meeting has been
CANCELLED
Thursday, May 19th, 2022, 11:30 AM
"FCGS Full Board Meeting"
Location: Fairfield County Museum
231 S. Congress St., Winnsboro, SC 29180 (Directions)
FCGS Full Board Lunch (TBD)
If You Have a FCGS Polo Shirt, Please Wear It to Show Your Colors.
---
*** Check Back Soon, Planning Stages ***
Tour of Historic Ridgeway
June
Ruff Store Current & Past, Ruff Chapel, Mt. Hope Plantation, St. Stevens Episcopal, etc.
---
*** Check Back Soon, Planning Stages ***
Joint Meeting With Dutch Fork Chapter of SCGS
--- Or ---
Joint Meeting With Orangeburg German Dutch Society
June
Orangeburg Museum
---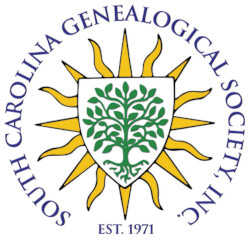 49th SCGS Summer Workshop
(Visit Website)

EVENT 1 - In Person
Friday & Saturday, July 8th & 9th, 2022 8:30 AM until 5:00 PM
$50 For SCGS Members, $55 for Non-Members
SC Department of Archives (Map)

EVENT 2 - 5 Virtual Sessions
Saturday, July 9th, 2022
$25 Open to All
---
The Fairfield County Genealogy Society Mission is:
to promote genealogy through education of its members and the general public;
to improve access to genealogical information in Fairfield County by maintaining an educational research center;
to foster collaboration among members
to assist those researching their Fairfield County ancestors;
to conduct periodic educational programs and conferences to explore cultural, genealogical, and historical topics;
to disseminate cultural, genealogical, historical and biographical information to members and to the general public.
---
If you would like to help or support our efforts in the community to meet our mission statement.
Please consider either becoming a society member or giving us a 501(c) (3) tax deductible donation.
Fairfield County Genealogy Society
Federal Employer Identification Number: 47-2246425 (PDF)
Public Charity Status: 170(b) (1) (A) (vi) (Picture)
Contribution Deductible: Yes (PDF)
Thank you!
---
Some of the organizations that FCGS is a member of, or closely affiliated with:



National
Genealogical
Society
Federation of
Genealogical
Societies
LDS
Family History
Center
Fairfield County
Historical
Society



South Carolina
Federation of Museums
South Carolina
State Library
Fairfield Community
Coordinating Council
Fairfield County
Chamber of Commerce